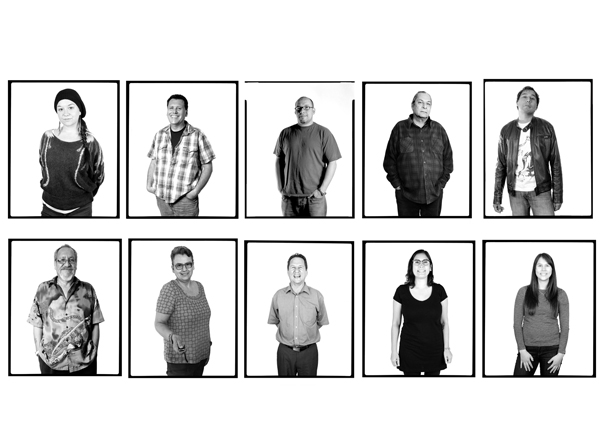 Portraits by Rosalie Favell (www.rosaliefavell.com)
Showing as part of the National Arts Centre's Canada Scene.

OPENING DAY SCHEDULE:
4 pm PANEL DISCUSSION WITH ARTISTS (Barry Ace, Howard Adler, Rosalie Favell, Meryl McMaster, Ron Noganosh, Frank Shebageget, and Leo Yerxa)
6 pm SNEAK PREVIEW & FOOD (available for purchase by The Belmont restaurant)
7 – 10 pm OPENING
9 pm SCREENING of Howard Adler's newest film
This year's 007 Special Agents – Barry Pottle, Joi T. Arcand, & Meryl McMaster. The other featured artists are:
+Ariel Smith
+Barry Ace
+Frank Shebageget
+Leo Yerxa
+Michael Belmore
+Ron Noganosh
+Rosalie Favell
EXHIBITION STATEMENT: 
To Indigenous peoples of this land, from coast to coast to coast, 150 years represents a very minuscule passage of time, especially in terms of the longstanding presence and occupation of homeland territories. Yet this seemingly fleeting moment in time is monumental in its impact on Indigenous communities, culture, language, identity, rights, water, and land.
This exhibition by 10 Indigenous artists working in diverse artistic practices offers an alternative perspective to the widely propagated Canada 150 celebrations by revealing timely and poignant aspects of the convoluted historical and contemporary relationship between Canada and Indigenous peoples. If there is any room for celebration in 2017 from an Indigenous perspective, it is a celebration of survivance, tenacity, and perseverance. It's a complicated celebration.
More info on It's Complicated on Central Art Garage & the Facebook Event Page.
For more info on the National Arts Centre's Canada Scene click here.